Print Has a Powerful Impact on Your Response Rates, so be Creative!
Print Quality
Print is by no means a commodity item, where the cheapest price is the best price. The quality of your print portrays the quality of your business to every recipient. Typically, in both leaflet distribution and direct mail campaigns, the bulk of the cost lies within the delivery, not the print. Print then can be the differentiator on how each recipient will respond to your marketing. This does not mean your print must be expensive, but it must be appropriate. A general rule of thumb is that the more premium your product or service, the more premium your print should be.
Print Formats
The size and finish of your items impact responses, and different sizes are appropriate for different campaigns. If you have folds, this influences your response rate too. Also, consider whether it's a postcard, a letter enclosed in an envelope, or a shrink-wrapped brochure. The critical factor when considering your print format is establishing which option is most appropriate for achieving the particular goals of your campaign.
1. Print Size
The most common size is A5 as this is a cost-effective print option, it allows ample space to fit your message on, and it fits comfortably through letterboxes. If you have an invitational or voucher marketing theme, then the DL option is ideal. When looking at A4, we often recommend placing it in an envelope folded; otherwise, it often becomes damaged when delivered. Here you can see our size guide, which shows the most common sizes available to print your campaigns on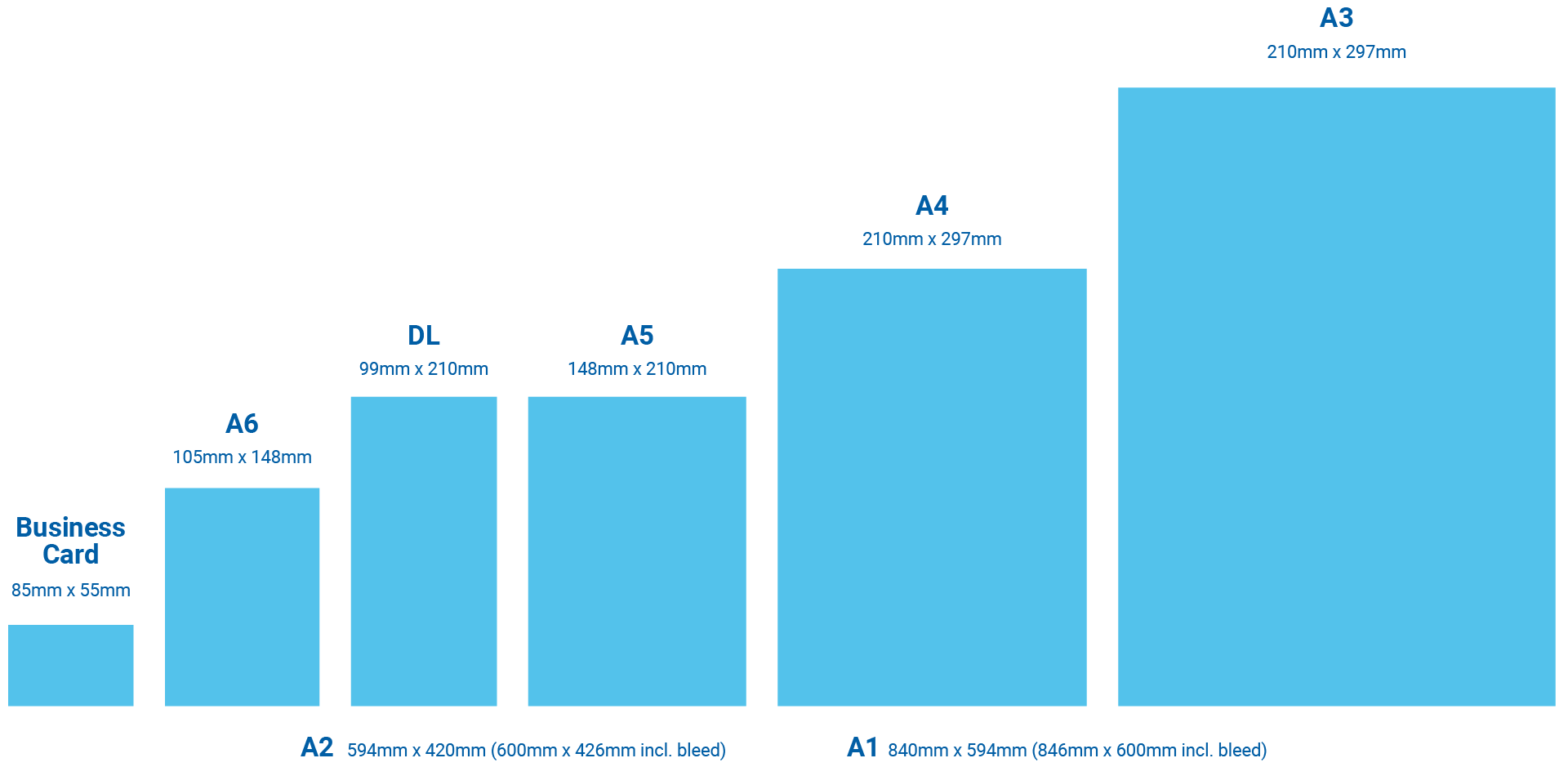 2. Print Finish
The three standard finishes are matt, gloss and uncoated. Gloss is favoured with takeaways, with most other sectors opting for matt, with those of a more environmentally friendly persuasion going for uncoated. Further, these can stand out with laminate, high gloss, spot-UV, foiling and more. The weight then comes into play, with weight from as low as 80gsm (grams per square metre) up to and exceeding 600gsm. Generally speaking, when you're trying to demonstrate low price go for lighter weights (130gsm), and the more you want to portray quality, go for heavier (350gsm). But, again, with print finishes, the ideal way to decide is to feel the products, so please ask for samples when making your decision.
3. Print Folds
A folded leaflet is likely most appropriate if you have lots you wish to show, which is often the case for visual businesses such as the home improvement sector. The more creative folds, such as the French Fold, unveil your beautiful artwork gradually, making the experience memorable and intriguing for the recipient. If you have clearly invested much thought into the design and folding process, many prospects will hold onto it longer due to the 'intrigue' factor. Here you can see our folding guide, demonstrating the most common folds available. Please note, though, we can provide unique folds to meet your exact vision: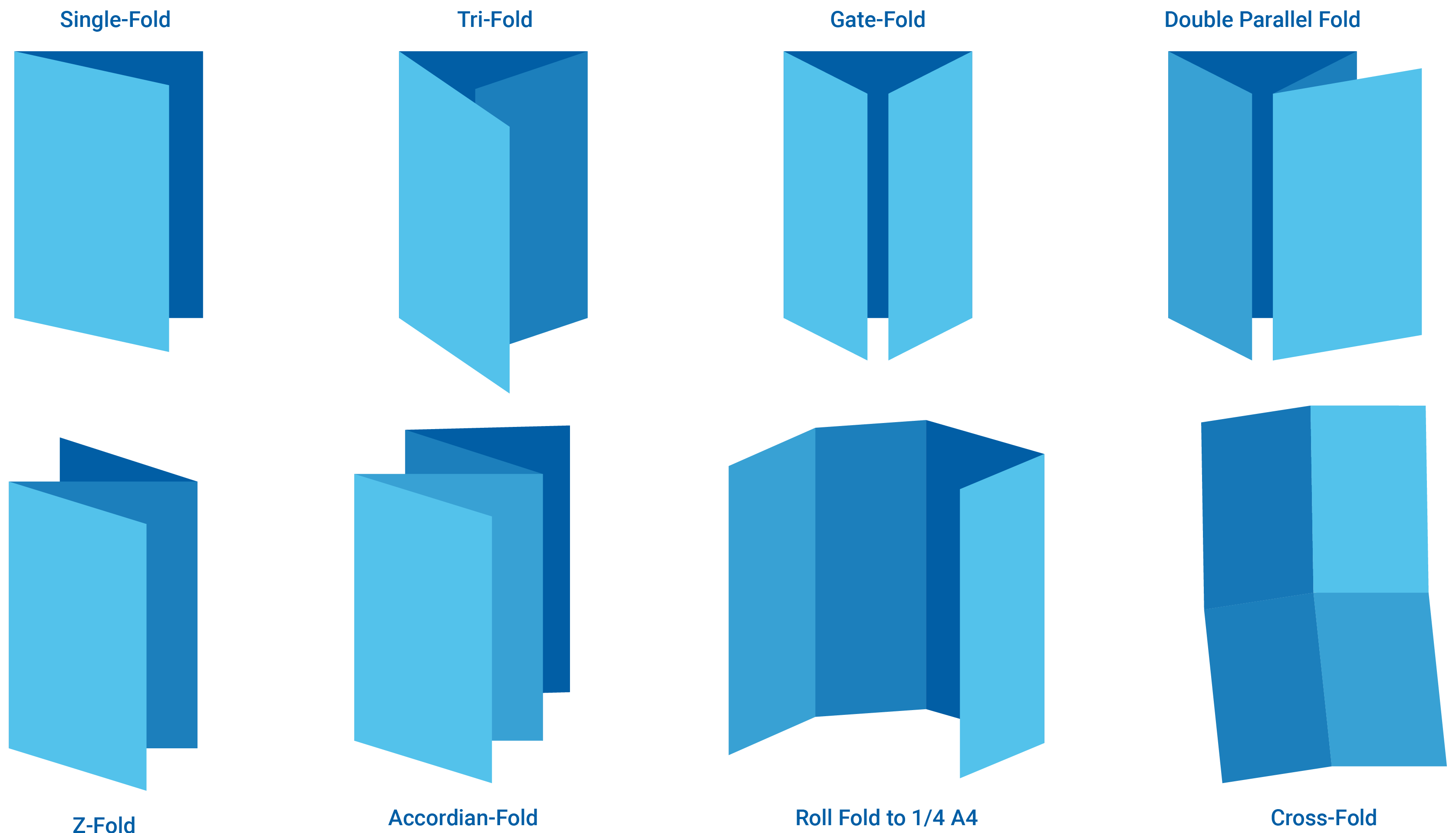 4. Print Enclosure
Often it will be appropriate to enclose your door-to-door or direct mail print. If you send a letter or a letter along with other items (a flyer, business card, etc.), we recommend enclosing them within an envelope. The envelope itself can form part of your marketing. It can be coloured, printed on, or even unique in shape. Again, any tactic to grab the receiver's attention is well worth using. Our shrink-wrapping service will protect your item(s) and give you a very professional look if you have a bulkier item, such as a brochure or magazine.
How to Make Your Print Unique
Each of the four elements discussed above enables you to create a unique and intriguing mailer. Further, we can create bespoke die-cut leaflets and other printed items. Common ones are the shape of a house, but we can be more creative, making it customised to your business. Even rounding off the corners makes a flyer stand out more. Unusual folds work well, too, from the cross fold, z-fold, maltese fold, and so many more; use unique folds to 'unfold' your amazing products to your recipients. As with every printed item, the print decisions must be made at the design stage. So whether you're using your graphic designer or our in-house team, the print must be considered from the outset.
Personalised Print
With direct mail, personalising your print can create a significant improvement in your response rate. The more personal and relevant your marketing, the higher your response will be. We not only do high-speed data personalisation, but we can change images too. Meaning, not only can you input a person's name, but you can also create a personal message for them, with a unique image exclusively for them! Personalisation is paramount for direct mail campaigns, so please make sure to discuss this with one of our Sales Consultants.
Digital Print or Litho Print
Digital print is most commonly used for small (under 1,000 quantity) and quick turnaround print jobs. We would not use it for door drops, but we place many direct mail jobs through our digital presses. Digital print also enables us to create the personalisation of your direct mail campaigns. Using digital printing, you can work on any paper thickness with no problems; laser printing is usually from A6 up to SRA3, but inkjet can be from stamps to the side of a building. The thick liquid applied to the print rollers means that you can use special spot colours, and metallic and pan tones to get the exact effect you're looking for.
With litho print, you're guaranteed a high-quality finish with a lower price tag. Generally, unless the total quantity is below 1,000, we will recommend litho as it's more cost-effective and the quality is higher. Often with direct mail print, we combine the two. First, we litho print the item, such as letterhead and then digitally add the personalisation.
Your Personal Print Portal
At Flow Fulfilment, we have partnered with The Personal Print Portal, a brand within our Group that provides your business with a FREE bespoke branded print portal. Your portal holds all your print products ready to order in a couple of clicks, along with an infinite product range for all the new items you may need. As a result, printing for your business is now simpler, faster and cheaper than ever before. If you print more than just for door-to-door and direct mail, this will likely save you considerable time and money. When discussing your print with us, please inquire about the opportunity to receive a complimentary personal print portal.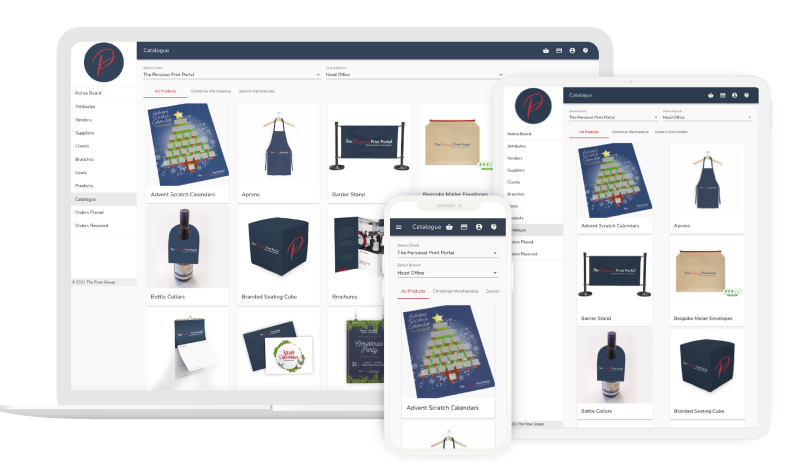 Next Step
Hopefully, this print page has condensed all the fundamental print advice needed to move forward with your leaflet distribution and direct mail campaigns. As always, our Sales Consultants are on hand to guide you through the entire process. As an end-to-end marketing and fulfilment company, we look after the whole process for you.