Outsourced Hand Fulfilment Made Simpler, Faster and Cheaper
There are so many jobs you can complete in-house. However, if you're looking to scale your business and simultaneously reduce overheads, then outsourcing some of your co-packing and pick & pack needs to a specialist company may be a great decision. At Flow Fulfilment, we make the process much simpler, faster and cheaper than completing it in-house.
Hand Assembly
From origami-style marketing to exhibition stands, our bespoke packing team can assemble it all. (And if you need help with design, creation or print, our in-house designers can take that worry off your hands too). Many printers, marketing agencies and retail stores particularly benefit from our hand assembly service. The types of full assembly items we're regularly asked to produce are:
Free-standing display units (FSDU)

Merchandising units (MU)

Countertop display and all point of sale assembly (POS assembly)

Gift packing

Full retail unit production

High volume flat-pack assembly services.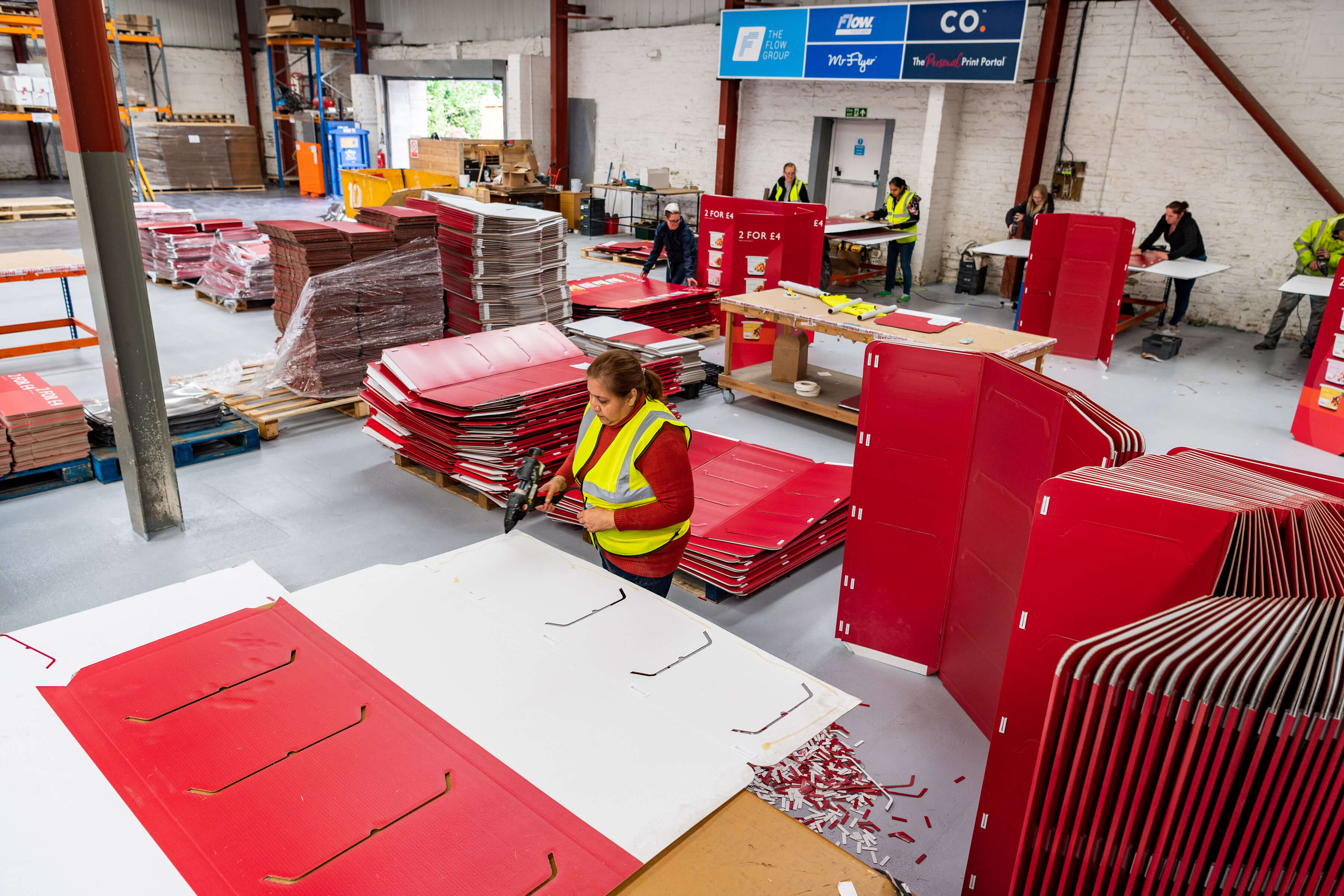 Hand Fulfilment
Nothing beats the personal touch. From placing a product in a jiffy bag to making up 4,000 cardboard point of sale displays, we put the personal touch into every element of our hand fulfilment. You might be delivering to millions, but every single individual will notice the personal touch of Flow's hand packing team. The typical hand fulfilment jobs your business can benefit from include:
Collation

Labelling and relabelling

Rectification

Product repackaging and bespoke enclosures for mail items

Non-machinable mailers

Order packing

Promotional and Seasonal Gift packing

Shrink wrapping

Belly banding

Loose inserts

Tip-on inserts

Returns management
E-Commerce Fulfilment
Hand fulfilment has become a core service for our pick and pack e-commerce clients - no longer do businesses need to have a home full of stock to find, pick, pack and post every day! Our software works seamlessly with Shopify and Shopblocks to fully automate your e-commerce business. Equally, if you're looking to launch an e-commerce element to your business, we can build you a fully integrated bespoke e-commerce website.
Direct Mail Fulfilment
As a full-service mailing house, once your products have been assembled or handpicked, we provide the following vital element - posting them to the end client. Thanks to posting millions of items each year (alongside our ISO14001), we receive heavily discounted postage prices, which we pass on to you. For the bulkier items (such as FSDU's), we courier these to your desired destination(s).
Next Step
Hopefully, this page has revealed how your business can benefit from assembly and hand fulfilment services. The next step is to contact our Sales Team, express your goals and requirements, and they can provide the most appropriate solutions for you.
Great uses for our hand fulfilment services:
Seasonal gift sets
Fragile products
Promotional items
Food samples
Children's gifts
Hand wrapped gifts (from Santa!)
Marketing/Sample packs
Gifts for direct mail
Starter kits
Household consumables
Prize giveaways
Start Your Campaign Today