How to Create Actionable Leaflet Distribution Artwork
People will judge your business based on what you send them. Your flyer will be going to thousands of homes and will often be viewed by everyone living in that home. All these people will spend their three seconds (and hopefully much more time subsequently) judging your business.
This page will share how to create artwork that will showcase your company's incredible value and why people should take action. In addition, we will cover the marketing principles, specifically for door to door marketing, which will dramatically enhance your overall return on investment.
Create Relevant Artwork
At Flow, we always look to have an initial consultation with you to establish your goals and what your ideal customer profile is. These insights form the foundation for how we demographically reach your ideal customer and how we get that message across.
People are most likely to engage with your marketing when it is relevant to them - where it identifies a need they have and tangibly demonstrates your business as their solution. Therefore, the use of imagery, headline, content and call to action must be specific to that recipient.
For example, you're a private high school marketing manager and need a strategy to attract current year six children and their parents to visit your upcoming open day. We have identified the appropriate postcode sectors and now need a flyer design. The imagery needs to involve kids; they need to be in a stimulating environment, enjoying their time with friends.
The headline identifies the need and speaks to both the parent's emotional and logical brain(s), such as 'Would you like to give your kids the best possible education?' What good parent is going to say no to that?!
The call to action (CTA) then positions your school as the obvious solution, such as 'Take the first step by booking in for our exciting Open Day on...'
Design Leaflets that Stand Out - Top 5 Strategies
Remember that your leaflet, flyer, brochure or whatever format you choose to send will likely be delivered alongside other (non-competing) printed items and the mail. For your business to see a return from your door to door campaign, it must be stand out. Here are the top five strategies to help your flyer stand out:
1. Use an eye-catching and appropriate image
If we continue with the private high school example, a flyer with a large image of the school building is unlikely to appeal to the parent or child. Even if you have a beautiful building, this should be a secondary image found on the reverse and may be positioned next to a visual map.
Instead, it is images of kids doing exciting science experiments or partaking in sports in your gym that will catch the eye of the receiver. With imagery and marketing in general, you're not selling what you do but the benefit it brings.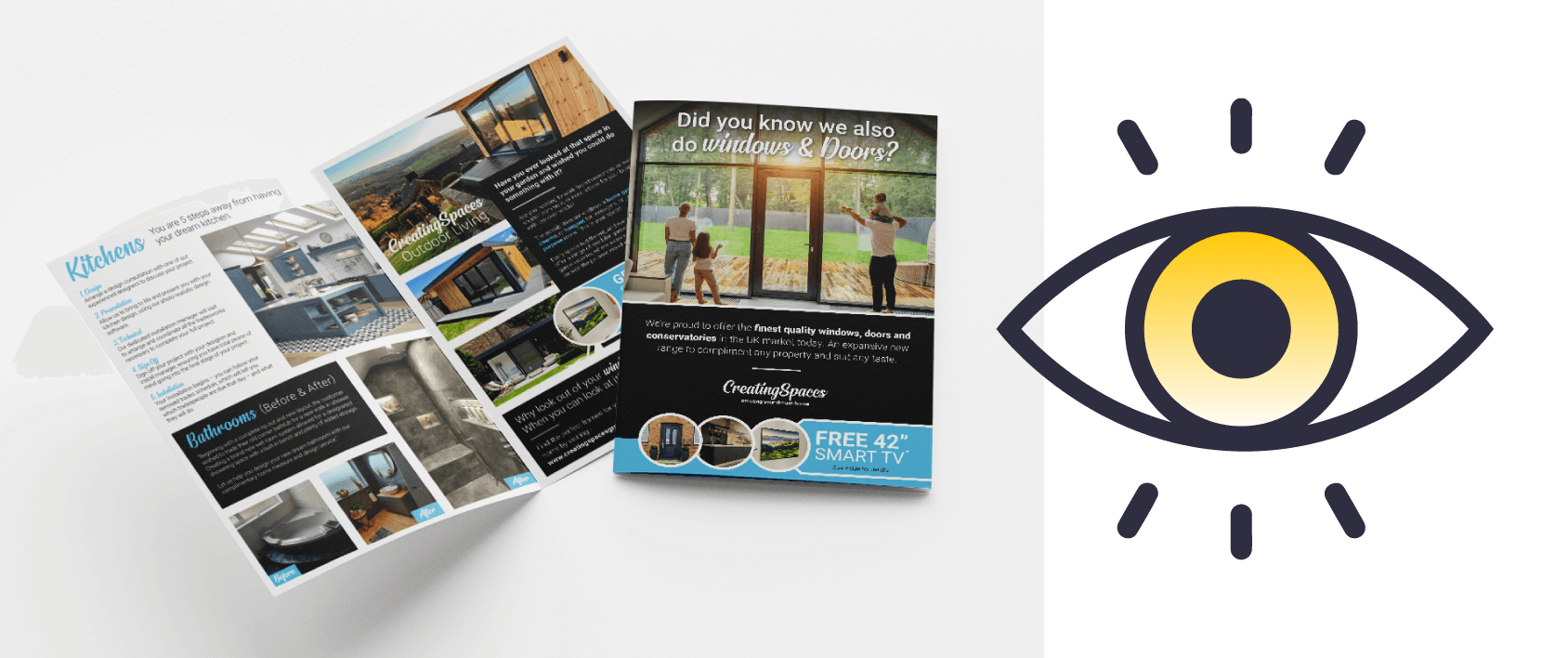 2. Create Memorable Copy
Alliteration is an excellent tool to make the content of your leaflet memorable (hopefully, you noticed it in the sub-headline above!). The headline, sub-headline and call to action must all stand out - so make them bigger. When it comes to your body of text, use bullet points rather than paragraphs as they are easier to read and digest. Also consider the fonts used.
Typically we look to keep brand consistency, so we would use your brand guidelines document (where available) or look at your website to keep the same fonts, style, colours, etc.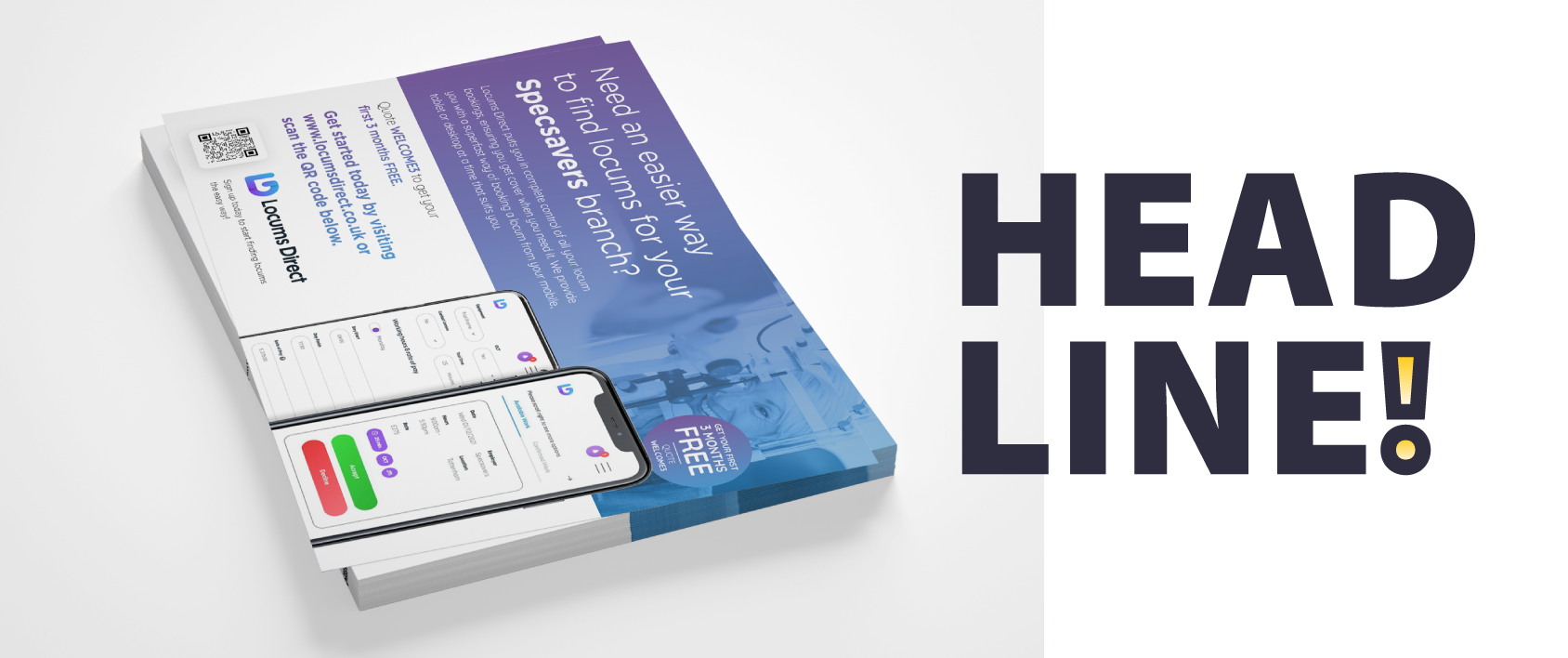 3. Always Give a Reason to Respond
Following on from copy, the most critical element of your copy is the call to action (CTA). People will not act if you simply provide information. The CTA doesn't need to be a discount, but it does need to ask the receiver to take some form of action.
On the school example, 'Visit our open day' is a much more appropriate CTA than 'Sign your child up immediately'! CTA's often work most effectively when the recipient needs little commitment - instead, you're simply prompting them in the right direction.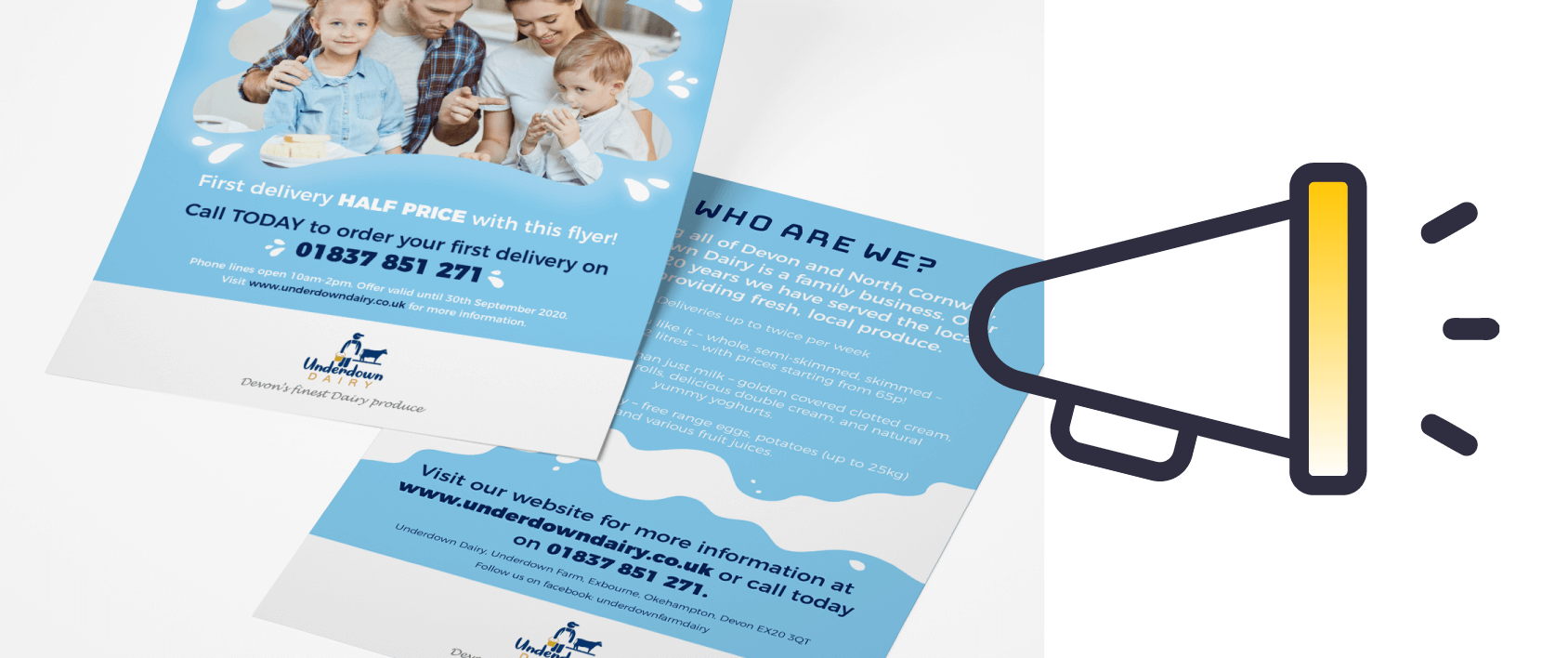 4. Keep Your Artwork Simple
There is a common request from clients to effectively cram in as much information and as many offers as possible onto a flyer design. However, this is counter-productive. A busy flyer overwhelms the receiver and results in no action. Instead, we recommend establishing what specific goal you wish to achieve from the flyer and keep your message on point.
5. Showcase your Credibility
In sales and marketing, it's essential to remove potential barriers a new client may have. Unfortunately, it often takes multiple touchpoints before a prospect will take action because they need to build up trust. You can help alleviate this in three simple ways:
Testimonials. A compelling 5* testimonial referencing the flyer's offering demonstrates how someone has benefited positively from your product/service.
Accreditations. Trust by association is achieved with accreditations. If you're a member of FSB or have an ISO, for example, these boost credibility.
Awards.

Business awards

are hard to win, so if you've managed to win one, flaunt it! Awards are excellent demonstrations of a credible business.

Next Step
All the information has provided you with the fundamentals for creating powerful artwork for leaflet distribution campaigns. We offer you the complete package at Flow - from initial consultation, strategy, artwork, print, and distribution. This helps us provide door to door campaigns simpler, faster and cheaper for you.
The next step is simply to get in touch, and we can begin helping you build your business.